Regular price
$49.00 USD
Sale price
$45.00 USD
Unit price
per
Sale
Sold out
Shipping information

► We fulfill orders from three locations: USA (Texas), EU (Germany), and NZ.

► NEW: This month, we offer a flat rate of $6.95 for domestic shipping to our USA customers for all orders of more than one deck! For a single deck, the shipping cost is $6.20.

► For customers outside of the USA (excluding NZ/AU), we recommend selecting the "Shipping from the EU" option when purchasing between 1-8 decks or more than 12 decks. This will provide you with better international shipping rates, no matter where you are, even in Canada. The shipping rates are the same from both the USA and EU if you are only buying one deck.

► Customers located in the EU should always select the EU shipping option if a deck is currently stocked in our EU warehouse.

► If you buy decks from two locations, you will have to pay for two parcels. Whenever possible, order all decks from a single warehouse to save on shipping.

► All parcels are tracked.

► Order processing time is 1-2 business days.
View full details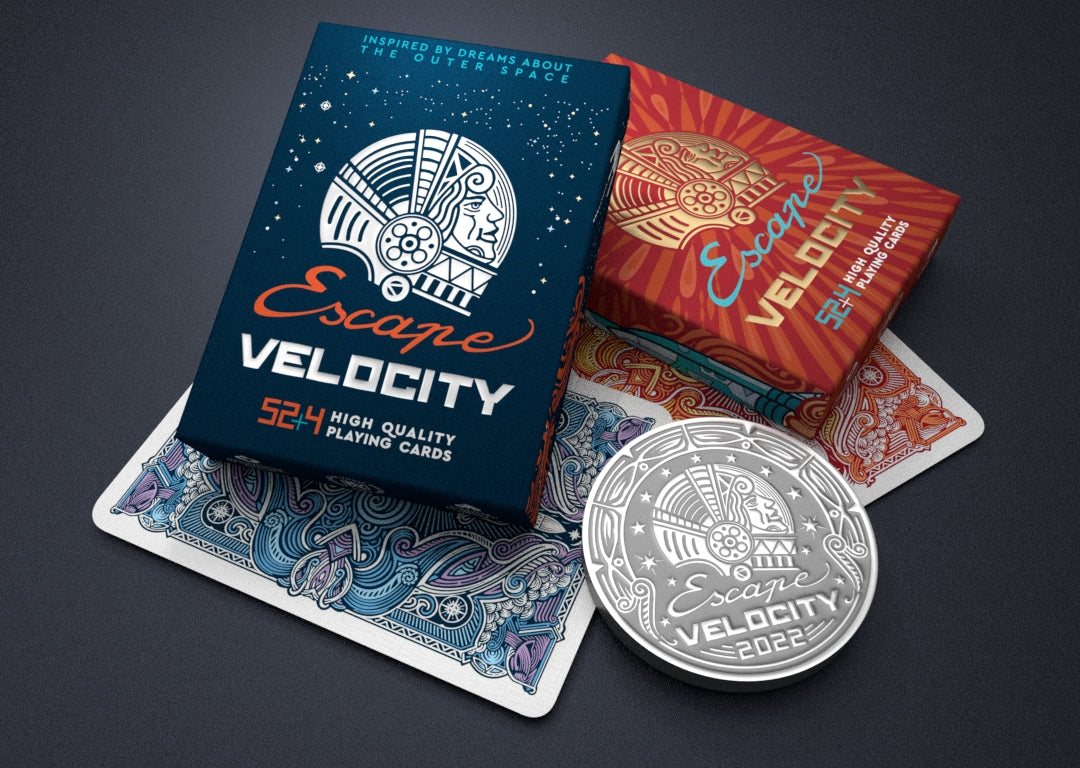 Reach for the stars with Escape Velocity, a deck inspired by the incredible history of space exploration. It tells the story of brave heroes who fearlessly defy gravity and explore the unknown. The deck honors these adventurers and celebrates their unbreakable spirit.
Are you ready to embark on a journey through the universe? Join the mission now!
Escape Velocity decks are available in two editions: the Blue version pays homage to the cold depths of space, while the Red draws inspiration from the fiery bursts of rocket engines.
There are TWO decks and ONE COIN in this bundle
The 

COIN

measures

50mm (2 inches)

in diameter and

5mm (0.2 inches)

in thickness. 
Two 100% custom decks featuring original symmetric courts with retro astronauts

Printed by Cartamundi in Belgium on premium True Linen B9 Slimline stock

Foil-stamped and embossed box, with a night sky printed inside

Edition of 750 decks in each color
56 poker-sized cards, including two Jokers featuring an astronaut-accordionist, and two extra cards
Original pips and layouts for number cards
The sides of the blue and red boxes form an image of a rocket
Designed by Sinkevich, produced by Montenzi
Funded on

 

Kickstarter
All images are 3D or prototypes! Actual colors may vary!



Coin
Back designs


Court cards
Clubs: spaceport technician, female astronaut, the head of the flight control center.
Diamonds: co-pilot, astrophotographer, spaceship commander.
Spades: test pilot, xenobiologist, one of the pioneers of astronautics and rocket scientist.
Hearts (J/Q/K): legendary pilot and first astronaut, first space tourist who gives a press conference, leading rocket engineer and designer.
Aces
Jokers
Number cards